All About Gutters offers Local professional Seamless Rain gutter & downspout installations, gutter guards, gutter screens & covers.
We provide our clients with efficiency, adequacy, and affordability. We have installed over 4,000 gutter systems on homes around Delaware and Eastern Shore Maryland area.
We protect your home from rain, snow, sleet, and clogged gutter systems. Moisture is the most dangerous type of damage to a house and we believe that is fully preventable. See why so many people have relied on All About Gutters and get your free estimate today.
---
Aluminum Gutters Carry a Higher Volume of Water
Heavy or fast downpours can be an issue if your gutters size is too small, it won't be able to handle the volume of water. Storms can create a high volume of water that can get backed up in other gutter types that are not designed to function in areas of heavy precipitation.
Because aluminum is such strong material, it often has a wider channel, allowing it to carry much more water safely away from your home.
Aluminum Gutters Are Lightweight
Overtime, gutters tend to sag and bend changing the dynamics of the whole system. Because aluminum is so lightweight and durable, it holds its shape so you never have to worry about dips that occur over time that can cause overflows, and damage to the home.
Aluminum Gutters Last Longer
Homeowners frequently ask "How long do aluminum gutters last?" In most cases, aluminum gutters can give you 20+ years of protection!
Since it is one of the most durable materials available, aluminum will withstand punishment from snow, hail, & other falling debris. The last thing you want to worry about on your house are the gutters.
The reason why Aluminum gutters can last so long is because they are not prone to rust. A lot of older houses or "fixer uppers" still rely on metal gutters which are heavy and tend to rust over time. Once a gutter fails your house's main line of defense is compromised.
---
Copper Gutters Are Robust
Think of Copper gutters as an upgrade to an already efficient system. Not only is it extremely durable like aluminum but it won't crack or rust the way vinyl & steel gutters are prone to doing. Changes in climate & temperature won't weaken it over time. You won't have to replace it, which makes it more expensive but can save you money in the long run.
These gutters are also much easier to maintain. Copper discourages the growth of algae, fungi, and other plants which means fewer blockages in the gutters, or fewer times you'll have to climb up on a ladder and clean them out. We wouldn't recommend that anyways, let us clean your systems for you!
Again, there is a higher price tag but there are some amazing advantages. Most copper gutters last 100 years or more. After a while, the metal produces a greenish layer called verdigris, which is a type of fungicide that kills any plant growth. Verdigris is what gives the Statue of Liberty its distinctive color.
Copper Gutters Are Aesthetically Pleasing
Copper has a reputation as a beautiful material that lends charm and elegance to any structure. It fits especially well on older buildings, matching the materials and styles used. It also helps a house stand out among others in the neighborhood, adding curb appeal.
Regular steel & metal gutters tend to have issues over time. Galvanized Steel gutters introduce Iron into its structure, which reacts very easily with oxygen. A thin layer of zinc on the surface prevents the elements from reaching the steel so quickly, as well as avoiding any moisture.
When cleaning gutters, sometimes corrosive chemicals are used to achieve that clean look. Chlorine-based bleaches can destroy the oxide layer on stainless steel, but not galvanized steel.
Galvanized steel typically can last up to 15 years but require more maintenance then Copper & Aluminum.
---
Was prompt, honest, and detailed. Did exactly what was asked and exactly what he said he would do. No hidden agendas, no mid-job negotiations, was professional and a pleasure to deal with. The work, materials and final product was...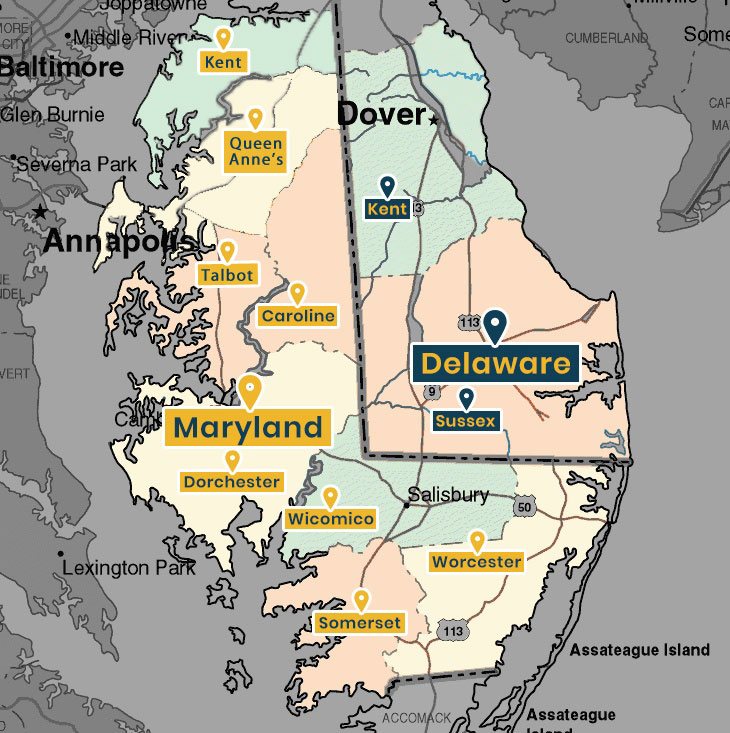 Maryland Counties:
Wicomico
Worcester
Somerset
Dorchester
Caroline
Talbot
Queen Anne's
Kent
Please fill in the form below to request a free quote and one of our experts will contact you to arrange a meeting. This visit will serve to evaluate your needs and give you a personalized and competitive quotation.